Skilling America
Equipping education, workforce and HR professionals to unlock access to better jobs
Now more than ever job seekers rely on a competent guide to help them navigate today's changing education and workforce systems.
Skilling America teaches navigators how to adopt a competency-based approach to their work -- with online training, and resources that lead to an industry-validated certification, giving navigators the confidence to serve their clients -- and the workforce as a whole -- well.

Join an industry-recognized cohort of trained career navigators
Skilling America is an industry-validated certification program that provides training in all the areas most important to the success of a career navigator. The training topics focus on the four critical domains of talent development: career coaching, partnership development, labor market and job analysis, and leadership, equipping navigators to move clients and communities toward financial independence (or toward economic mobility).
Skilling America also provides the opportunity for navigators to connect with a network of professionals and local partners all working toward advancing their communities toward economic mobility.
The American workforce needs professionals who can help their communities unlock access to better jobs. Learn how to lead the way with Skilling America.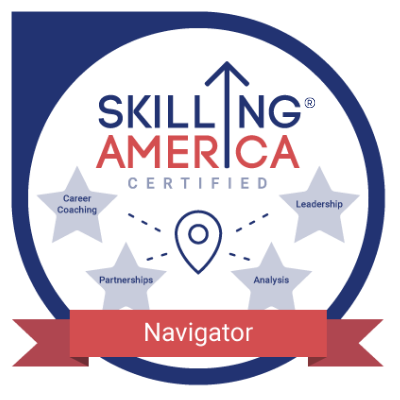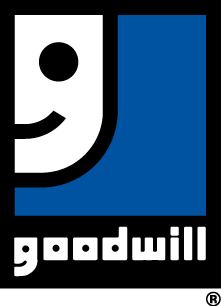 Savings of up to $4,000 per Navigator
Skilling America courses were originally piloted and are now in use with Goodwill member locations across the country. Organizations using Skilling America have reported a significant reduction in navigator turnover, which has resulted in agency savings of up to $4,000 per navigator.
Skilling America courseware is relied upon by hundreds of companies nationwide!
"Skilling America's virtual, self-paced modules are a great way to engage workforce professionals in ongoing learning and professional development. The course provides a solid foundation in core areas that every workforce professional needs to understand as they grow and work in the talent development ecosystem."
– Rebecca Kusner, Director, Ohio Workforce Coalition.
"Skilling America has developed a robust program that, coupled with NYATEP's New York-based knowledge, will ensure professionals know how to engage, train and support New Yorkers and employers from every corner of the State."
– Melinda Mack, Executive Director, NYATEP
FAQs
A handful of organizations have firewalls that may have prevented Skilling America emails from reaching your inbox. If that is the case someone from our support team will be in touch, generally within 24 hours Monday through Friday, to let you know whether your account was confirmed or your certificate was issued. If you do not hear from a Skilling America representative within one business day, please reach out to us via email at
contact@skillingamerica.org
.
Typically any time you log out of Skilling America your progress will be automatically saved. Be sure to log back in and double check the progress "donut" icon on your profile to see if you've completed 100% of the course, including our end of course survey. If your profile shows as incomplete but you completed all aspects of the curriculum please, send us a message at
contact@skillingamerica.org
and our support team will investigate.
There are two easy options for viewing your certificate. 1. Visit SkillingAmerica.org and log in. Click on "Certificates" on the top of your page and you will automatically see any certificates you've earned over time along with a link to visit them on our third-party issuer's (Accredible) webpage. 2. Check your email archive for the original email you received from Skilling America with your certificate. There will be a link there to Accredible's page hosting your certificate. From Accredible's page, you can print a PDF of your certificate, post it to your LinkedIn profile, and so much more. For more information on sharing your certificate and digital badge, we recommend visiting
Accredible's Credential View Tool Kit
.
To share your certificate on LinkedIn visit
SkillingAmerica.org
, log in, and select "Certificates" from the top menu. You'll see your certificate posted with a button "View in Accredible". Click this button to visit the Accredible page. Once there you'll see an option on the right-hand menu called "Add to LinkedIn profile". Be careful! The "Share on LinkedIn" option will only create a post for your LinkedIn feed. To post the credential itself you'll want to use the "Add" option". You'll be given some information to copy/paste into your profile from there.
You are now eligible to be certified as a Skilling America Navigator® and join an elite group of highly skilled Navigators dedicated to leading millions of Americans to better jobs and brighter futures. The Skilling America Navigator Certification is a culmination of your journey to complete the Skilling America courses combined with your real-life experiences as a talent professional. This certification indicates that you have mastered the competencies in four critical domains of talent development: career coaching, partnership development, job analysis, and leadership. Not only does the Skilling America Navigator Certification provide you even more credibility in your practice but it allows you access to a network of highly skilled Navigators. To start the Skilling America Navigator Certification application visit skillingamerica.org, click the "My Certificates" tab and select "SAN Certification". You'll be directed to the
Skilling America Navigator Certification page
where you can verify your eligibility for the certification and begin the application process. After completing the application you'll receive an email with your electronic Skilling America Navigator Certification that you can proudly post to your LinkedIn account or other sites of your choice. Additionally, you will be featured on the
Skilling America Navigator page
.
The Skilling America Community Forum is a place where you'll find ways to engage with other Navigators just like you. The Forum is a central repository for education and workforce professionals across the nation to (1) share best practices, (2) seek peer input, and (3) generate new ideas and resources for career navigation and creating more efficient workforce systems.
The four courses are self-paced and focus on the essential competencies required for Navigators. Each course may take 3-4 hours to complete. Skilling America users will also receive access to tools and resources within the SA library, and may earn a certificate upon course completion. The certificates can even be shared and verified through LinkedIn!